ATTENTION - YOU ARE LOOKING AT AN OLD VERSION OF OUR WEBSITE. PLEASE GO TO THE NEW VERSION AT WWW.FLYING-CIRCUS.COM
The band Flying Circus was founded in the winter 1989/1990 in Grevenbroich. The five musicians draw their influences from the spheres of both Hard Rock and Progressive Rock. Up until now, the band has released four albums: Seasons (1997), Out of the Waste Land (2000), Pomp (2004) and Forth (2010), the latter's release coinciding with the band's twentieth anniversary. To commemorate this fact, 'Forth' was also released as a deluxe edition containing a bonus CD with 13 rerecordings of the band's earliest compositions which were hitherto unavailable.
After a line-up change in 2011/2012, Flying Circus released their first CD with its current line up, an EP called 'Ones and Zeros', in 2013. At the moment, the band is working on its fifth album - a concept work which will tell the story of a ficticious band of the late 1960s.
---
BAND MEMBERS (in alphabetical order):
Rüdiger Blömer (keyboards, violin) • Michael Dorp (vocals) •
Michael Rick (guitar) • Ande Roderigo (drums) • Roger Weitz (bass)
---
Instruments: keyboards, violin
Born: November 15th, 1960
All time favourite bands: GENTLE GIANT, YES, KING CRIMSON, MAHAVISHNU ORCHESTRA
Favourite masters of his craft - keyboards: Kerry Minnear, Rick Wakeman, Eddie Jobson, Keith Emerson - violin: Jerry Goodman, Jean-Luc Ponty, Zbigniew Seifert
Education/occupation: Studied composing, the violin and audio engineering. He is now working as a composer, sound engenieer and music teacher.
---
Instrument: vocals
Born: November 16th, 1968
All time favourite bands: BLACK SABBATH, LED ZEPPELIN, THE TEA PARTY, QUEEN, THE CULT
Favourite masters of his craft: Paul Rodgers, Glenn Hughes, Robert Plant, Ian Astbury, Jeff Martin, Lisa Gerrard, Freddie Mercury, Ozzy Osbourne, Geoff Tate, Skin, David Coverdale, Tony Martin, Annie Haslam, Brendan Perry
Education/occupation: Studied the media, English and German literature in Cologne, and is now working as a freelance publicist and musician.
---
Instrument: guitar
Born: November 26th, 1969
All time favourite bands: LED ZEPPELIN, SPOCK'S BEARD, RUSH, TOM PETTY AND THE HEARTBREAKERS, DEEP PURPLE
Favourite masters of his craft: Jimmy Page, Paul Kossoff, Carlos Santana, David Gilmour, John Renbourn
Ausbildung/Beruf: Studied educational theory in Cologne. He is now a social worker in a Catholic school in Neuss (near Düsseldorf).
---
Instrument: drums
Born: March 31st, 1963
All time favourite bands: THE BEATLES, LED ZEPPELIN, KING CRIMSON, GENESIS, YES, THE POLICE
Favourite masters of his craft: Steve Gadd, John Bonham, Phil Collins, Richard Hayward, Stewart Copeland, Manu Katché, Benny Greb
Ausbildung/Beruf: Has played the drums all of his life and is now working as a drummer in several cover bands (most notably Beatles tribute act 'HARD DAYS NIGHT' and cover duo 'JUKEBOX HELDEN') and as a teacher for drumming.
---
Instrument: bass
Born: July 10th, 1951
All time favourite bands: GENTLE GIANT, MAHAVISHNU ORCHESTRA, GENESIS, WEATHER REPORT, FLAGEOLETT
Favourite masters of his craft: Jaco Pastorius, Mark King, John Entwhistle
Ausbildung/Beruf: Trained educational/social worker in a hostel for handicaped people in Mönchengladbach, systemical advisor for families and organisations.
---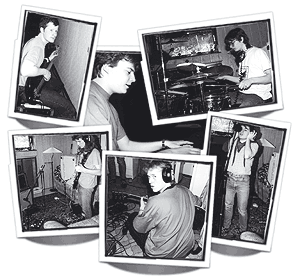 When guitarist Michael Rick, drummer Falco Kurtz and vocalist Michael Dorp first met in autumn 1988, the three bored teenagers from provincial Grevenbroich (somewhere between Cologne and Düsseldorf) saw that the charts were surprisingly full of 'hard & heavy' acts like BON JOVI and the commercial version of a once quite impressive band called WHITESNAKE.
Sure, they too wanted to play heavy rock music, but certainly not in the same vein as those 'posers'. Post-adolescent necessity to distinguish themselves from the mainstream had led them into musical directions nobody wanted to follow at the time: Falco Kurtz had pinched the old records of GENESIS and MANFRED MANN'S EARTH BAND from his big brother, the walls in Michael Dorp's room were graced by posters of BLACK SABBATH and LED ZEPPELIN, and Michael Rick was practicing pieces from bands almost forgotten, e.g. FREE and BLUE CHEER.
In other words: It was obvious that the common basis of the three founder members was a pronounced weakness for the sounds of the 70ies. Accordingly, it should not surprise anyone that the band started off playing classics from that time. As experience was lacking, the musicians at first restricted themselves to playing cover versions of straight rock songs, which were soon to be followed by similar compositions of their own. After a period of various co-musicians joinig and leaving, the band found a stable line up with the addition of Harald Krause on bass, Michael Nolte on keyboards and backing vocals and Markus Wasen on guitar and finally hit the stage under the name of FLYING CIRCUS for the first time in autumn 1990. At the time it went virtually unnoticed, but the name taken from the 70ies television series by British comedians Monty Python definitely determined the band's relation to the era of tie-dye t-shirts and flared trousers which is still valid today.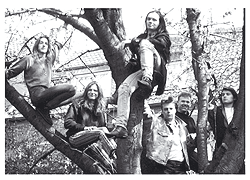 It may seem suprising that FLYING CIRCUS took the time of a fulll year before first making themselves known to the public, but (as is still the case today) the band simply wanted to do a good job. Apart form their own reasons for taking their time, being patient definitely payed off: Ironically, the aforementioned commercial bands had paved the way for a revitalised interest in the music of the 70ies by simply wrapping up their impudent LED ZEP-rip-offs in an 80ies sound, and so the advent of FLYING CIRCUS on the regional music scene became a real open arms welcome.
In a short period of time FLYING CIRCUS developed into a higly acclaimed live act with a lot of stage experience, but at the same time the band grew weary of having to play the same old songs at private parties, biker's clubs or local festivals over and over again. Numbers like 'Smoke on the Water', 'All Right Now' or 'Born To Be Wild' are always crowd pleasers, but when played approximately one time and a half, they no longer exactly represent what you would call a musical challenge. So the band deliberately tried to move into directions that had not been followed as extensively:
Michael Rick, with his growing interest in acoustic guitar and his experience as a guest musician in a folk orientated project, was the first to open doors into different directions than classical hard rock, and then Michael Dorp's lyrics departed more and more from the usual rock'n'roll clichés, as he became ever further influenced by various poets as different as Blake, Coleridge and T.S. Eliot, but it was not until bassist Markus Erren joined in 1994 that the band's direction began to take its present shape: Through his fanatical interest in progressive rock Erren became a kind of catalyst on the way to the kind of sound the band had in mind.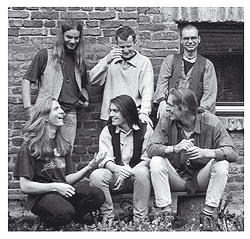 After Michael Nolte and Markus Wasen had left the band due to lack of time, Harald Krause rejoined the band on keyboards after having left his post as bass player for a period of time, and his interim replacement Lorenz Gelius-Laudam switched to the post of second guitarist. It was this lineup of FLYING CIRCUS which then developed most of the material for the band's debut CD "Seasons", and it was here that the band's still extremely infectious heavy side first got combined with intense psychedelic paintings of sound and lyrical folk parts. Artfully wrought into complex arrangements, the two sides of FLYING CIRCUS created a unique mixture of hard and progressive rock, which in the CD booklet were even more intensified by the highly imaginative paintings of guitarist Lorenz Gelius-Laudam.
But despite all its versatile elements, the first CD, released on 'SECOND BATTLE's' sub-label 'EARLY BIRDS' certainly did not represent the final result of FLYING CIRCUS's development: Keyboardist Harald Krause had to leave the band during the recording sessions for "Seasons" because of lack of time, and as his replacement, the album's co-producer Roger Weitz, could draw on many years of experience in bands from the jazz rock scene, the songs put together after Krause's departure became even tighter arrangementwise. Thus the two sides of the band that are still visible today got fused together even more on "Out of the Waste Land" (EARLY BIRDS, 2000). As singer Michael Dorp put it at the time: "The new pieces that we've developed with Roger are never EITHER hard rock OR progresive, but always both at the same time. I think we are getting closer to an even more complete realisation of the vision which we have now been following for quite some time, and which we can now grasp in a more and more definite way."

Absolutely: With this concrete vision and the more than stable line-up that got closer and closer over the years, FLYING CIRCUS managed to overcome even the greatest of difficulties: Although drummer Falco Kurtz and bass player Markus Erren had to take exams in their respective academic studies during the time the third CD was recorded, with the latter band member being even further away in Los Angeles for job-related reasons most of the time, and the EARLY BIRDS label folding for financial reasons, the band still managed to produce an album entirely on their own that even surpassed the high standard they had set themselves with "Out of the Waste Land": the half-provocatively-/half ironically-titled "Pomp". The Song "Carpe Noctem" even got the band the accolade of being voted one of the best eight "Song Acts" of the year at the "German Rock and Pop Awards 2004", while the full album received even more critical acclaim than its predecessor and loads of praise from the fans as well.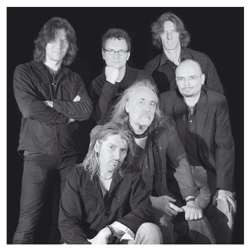 The last weeks of 2005 then saw the first line up change for FLYING CIRCUS since 1997. Bassist Markus Erren, who had been a major creative force in the band for more than 10 years, had to quit when what had always been seen as a temporary job-related stay in Los Angeles turned out to be a long term commitment after all. But there quickly was a solution at hand for FLYING CIRCUS: Roger Weitz, up to this point established as the band's keyboard player, changed to bass guitar (and thus to what really is his favourite instrument anyway). In turn, Lars Frik, who had already been helping out when Markus was in the US, became a permanent band member and replaced Roger on keyboards.
Having yet again decided to carry on against all odds inspired the band to give the new album it began working on its ambiguous title 'Forth', which of course is a play on words as it was to become FLYING CIRCUS's fourth album. While working on the new songs, it suddenly dawned on the six musicians that the 20th anniversary of the band was looming, so they decided to call all ex-members of the band in to help re-record some early FLYING CIRCUS compositions that had never made it onto CD before and which hitherto had only been available on ancient, badly produced demo tapes and live bootlegs. These 13 tracks then formed a bonus CD for 'Forth' in its special anniversary box set edition aptly titled 'Back & Forth'.
'Forth' was yet again received enthusiastically by the German and international music press and was declared a major step in the band's development (see review section). As the album's sales turned out more than satisfactory as well due to securing international/digital distribution, the band's enthusiasm level rose to unprecedented hights. Thus, FLYING CIRCUS quickly started writing new songs (especially Michael Rick and Roger Weitz), and singer/lyricist Michael Dorp developed a framework for a concept album. In addition, the band decided to release some songs that would not be able to secure a place within this bigger concept on a seperate EP rather quickly.
Yet it soon became clear that some band members simply would not be able to keep up with this higher pace due to work-related and/or family reasons. The result: Lars Frik, Falco Kurtz and Lorenz Gelius-Laudam, one after the other, declared their resignation from FLYING CIRCUS with a heavy heart, and the three remaining band members started to look for new companions with an equally uneasy feeling.
But as Michael Dorp, Michael Rick and Roger Weitz had developed many contacts within the western German music scene by gigging heavily with their unplugged cover-trio 'THIN CROW' and as guest musicians at various other projects, at last finding a new drummer did not take them very long: They had already played with Ande Roderigo (mainly active as part of the renowned Beatles tribute act 'HARD DAYS NIGHT' and cover duo 'SIMON & FRANK') on some occasions, and pretty much from the word go it had been clear: Getting along very well as people as much as as musicians, this would fit like a glove!
Finding someone new to play the keyboards was much harder, but as bassist Roger Weitz had formerly played this instrument within FLYING CIRCUS, the band remained a functioning unit at least within the studio context. As far as the guitars were concerned, everybody in the band agreed that Michael Rick should take care of this area on his own from now on, and thus FLYING CIRCUS started working on the EP as a four-piece.
Around the same time, Michael Dorp, Michael Rick and Roger Weitz began organizing a rather big event for THIN CROW sporting loads of guest musicians. Ande Roderigo was to play the drums on this occasion of course, and one of Roger Weitz's former colleagues in FLAGEOLETT, a jazz rock outfit Roger had been a member in during the 1980ies, Rüdiger Blömer, was to play keyboards and violin on a few numbers like THE WHO's 'Baba O'Riley'. Even during reharsals Rüdiger's parts became more and more already, and after the concert had gone ahead more than well (sporting a great version of the FLYING CIRCUS classic 'Seasons' that featured a fantastic violin solo by Rüdiger at the end) it soon became clear: Rüdiger Blömer will complete FLYING CIRCUS Mk. VI playing keyboards and adding the violin as an additional instrument.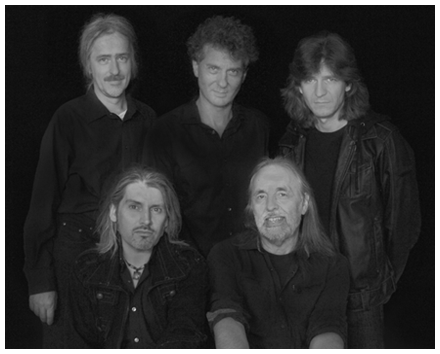 In 2013, the band released a new EP 'Ones and Zeros' with the new the line-up: Rüdiger Blömer (upper row left, keyboards/violin), Ande Roderigo (upper row middle, drums), Michael Rick (upper row right, guitar), Michael Dorp (lower row left, vocals) and Roger Weitz (lower row right, bass guitar). In addition to that, FLYING CIRCUS are now writing and recording songs for a full follow-up album to 'Forth' which will follow one coherent concept and tell the story of a ficticious band based in late 1960s London.
---